We highly value our denominational ties. Here are some of the denominational agencies that enable us to be involved in the "work of the Kingdom."
Regional Conferences
Mennonite Church of Normal belongs to two regional conferences: Illinois Mennonite Conference (IMC) and Central District Conference (CDC). Our pastors participate in a regional cluster of Mennonite pastors from both conferences.
Central District Conference                
1015 Division St
Goshen, IN, 46528
800-662-2264 Toll-Free
574-534-1485 Office Phone
574-534-8654 Fax
Doug Luginbill
Conference Minister
Emma Hartman
Administrator
Illinois Mennonite Conference
P.O. Box 3, Tremont, IL 61568
(309) 340 4503
David Miller
Executive Conference Minister
Martin Navarro
Associate Conference Minister for Hispanic Ministries
Bethany Ropp Fosdyck
Administrative Assistant
Mennonite Church USA is an Anabaptist Christian denomination with roots in the Radical Reformation of 16th-century Europe. It is the largest Mennonite denomination in the United States with 16 conferences, approximately 530 congregations, and 62,000 members.  MC USA was the result of a formal merger in 1999 of the General Conference Mennonite Church, and The Mennonite Church.
MC USA is part of Mennonite World Conference, a global faith family that includes churches in 58 countries.  Mennonite Church USA includes people who come from many faith traditions, ethnicities, nationalities, and backgrounds. Offices are located in Elkhart, Indiana, and Newton, Kansas.
MC USA's vision of Healing & Hope:
God calls us to be followers of Jesus Christ and,
by the power of the Holy Spirit, to grow as communities of grace, joy, and peace,
so that God's healing and hope flow through us to the world.
We are a diverse community, and one thing that unites us is how we practice our faith in the world…
Actively following Jesus is central to our lives.
We seek to follow Jesus above nationalism, racism, or materialism.
We are a historic peace church. We follow Jesus as a peacemaker and believe that we can practice the way of Jesus' reconciling love in human conflicts and in response to violence.
We believe in living simply and in service to others as a witness to God's love for the world.
Mennonite World Conference (MWC) is a global community of Christian churches rooted in the 16th-century Radical Reformation in Europe, particularly in the Anabaptist movement. MWC membership in 2018 included one international association and 107 Mennonite and Brethren in Christ national churches from 58 countries, with around 1.47 million baptized believers in close to 10,000 congregations. About 81% of baptized believers in MWC member churches are African, Asian or Latin American, and 19% are located in Europe and North America.
MWC exists to
Be a global community of faith in the Anabaptist-tradition
Facilitate relationships between Anabaptist-related churches worldwide, and
Relate to other Christian world communions and organizations.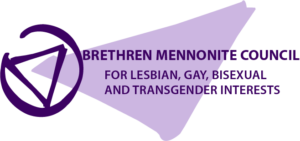 The Mennonite Church of Normal is a member of the Supportive Communities Network of the Brethren Mennonite Council for Lesbian, Gay, Bisexual, and Transgender Interests.